Initial Consultation in Gungahlin
When you arrive at Shine Dentists, Gungahlin, our friendly reception staff will ask you to fill out some medical paperwork. This information will give your dentist an idea of your state of health, which can impact your teeth and gums or influence the medication we may use in your care.
What to Expect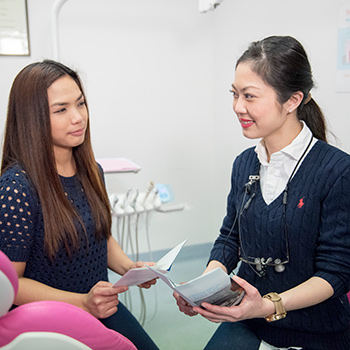 At your initial consultation, you'll have an opportunity to discuss concerns and your oral health goals. Your dentist will perform a full oral assessment to accurately plan any treatments that will enhance the health of your mouth. We'll look at
Any original restorations present such as fillings, crowns and veneers
Signs of oral cancer in the throat, tongue, cheeks and lips
The health of the bone and gun around the teeth
Your jaw joints
Your teeth and bite
Dental X-rays may be taken that check for decays between or inside teeth, abscesses or cysts on the tooth root, the position of the roots and any bone loss. Once we've completed the examination, we'll discuss all findings with you. If necessary, we'll create a treatment plan from all available options so that you can decide what's best for your budget and dental health.
CONTACT US »

Schedule your appointment today! We offer weekend hours on Saturdays and Sundays.

Initial Consultation Gungahlin | (02) 6242 6666