Conventional Braces in Gungahlin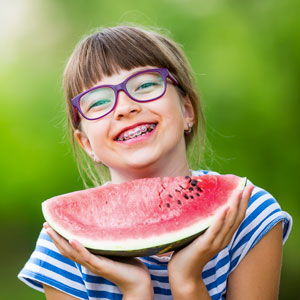 Correct the alignment of your teeth and bite with orthodontics that shift your smile into place. At Shine Dentists, Gungahlin, conventional braces are available to fix dental problems or even jaw and head pain. With straighter teeth, you can prevent gum disease and tooth decay with a smile that's easier to clean.
Orthodontic braces can be fixed or removable.
Fixed Braces
Brackets and bands are glued to teeth, holding flexible wires in place that exert pressure on your teeth. They're gently moved into the correct position over time.
Removable Braces
Delicate wires and springs are attached to the teeth, moving them with gentle pressure. They can be taken out and are appropriate for less complex cases, or may be used in conjunction with fixed braces.


How do I know what's right for me?
Your dentist will refer you to an orthodontist, who will discuss your goals, assess your oral health and take X-rays and moulds of your teeth. At a follow-up appointment, the orthodontist will outline a treatment plan, discussing all available options with you before you make your selection.
When are the braces fitted?
At your third appointment, once you've agreed on which solution is best for you, your orthodontist will put brackets and wires in place. You'll then see your orthodontist every 6-8 weeks to make sure that the braces are as tight as needed to shift your teeth.
Meanwhile, you'll still keep your regular, six-month checkups with your dentist to ensure the health of your gums and teeth. Oral hygiene is more important than ever as braces can make cleaning your teeth more difficult. Your orthodontist will advise you on cleaning tips and advice.
How long will it take?
Generally, 18-24 months is required, depending on the complexity of your case. Your orthodontist will discuss a time frame with you before beginning treatment.
After it's completed, the braces are removed and your teeth will be cleaned and polished. A fixed or removable retainer may be recommended to ensure that teeth stay in position.
Contact us today to discuss which orthodontic solution may be right for you! We offer same-day appointments for immediate attention.

Braces Gungahlin | (02) 6242 6666